Why Dental Implants?
Dental implants, metal tooth roots that bond naturally to jaw bones, can support anything from single crowns to full dentures. These implants stimulate your jaw bone to grow and stay stronger for the long-term.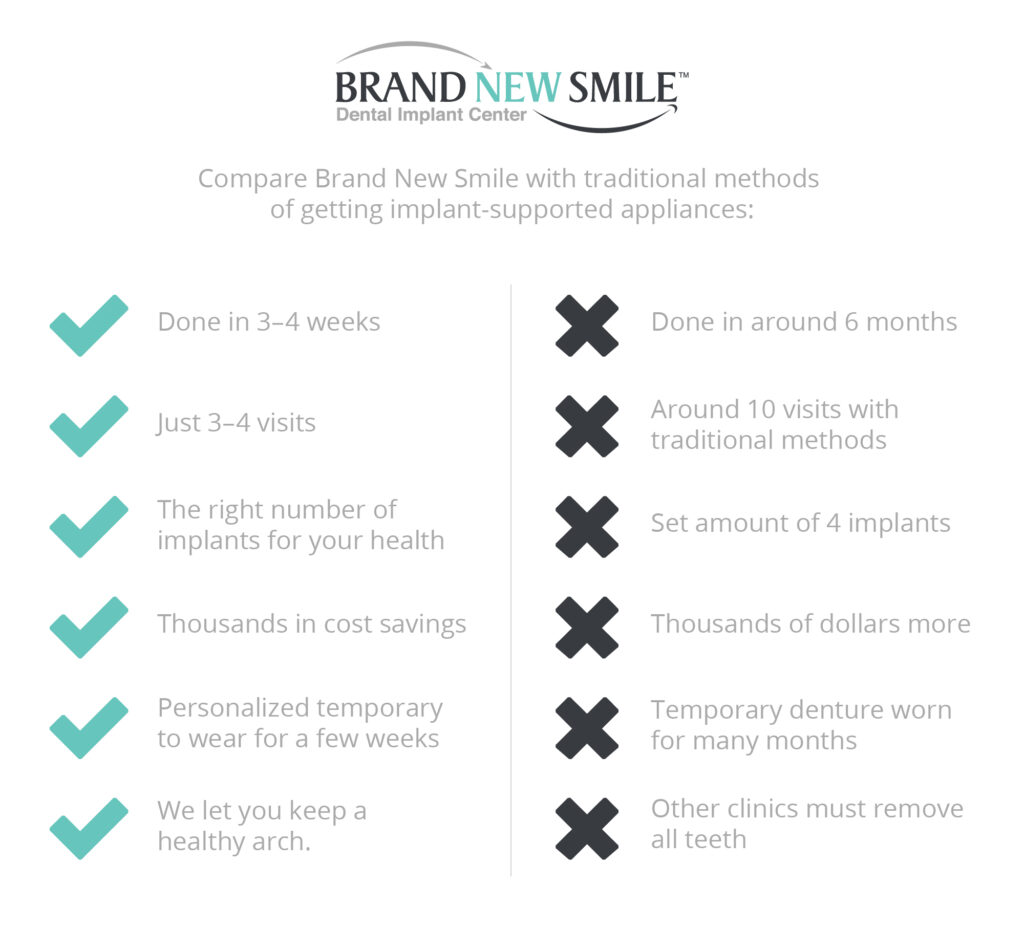 Missing All Teeth?
If your whole arch of teeth needs to be replaced, we can replace your smile with the All-on-4® Treatment Concept. We can give you just 4–6 implants, usually made of titanium to strengthen and support your jawbone. Then, a denture is securely attached to these implants.
Traditional dentures rest on the gums and can slip uncomfortably out of place. But implant-supported dentures are supported by artificial tooth roots to function just like natural teeth! They can't slip off of the gums while you're eating or speaking—letting you eat anything. They may even look better, because they don't obscure your natural gum structure.
---
Missing Multiple Teeth?
When you're missing just two or a few teeth next to each other, we can place a dental bridge on just 1 or 2 implants. This bridge holds the few replacement teeth you need.
With a traditional bridge, the nearest teeth have to be worn down so new crowns can be placed on them to anchor the bridge between them. But an implant-supported bridge is attached directly to the jaw. It's secure, doesn't alter other teeth, and strengthens the jaw.
Missing One Tooth?
A dental implant is perfect for replacing a single tooth. Instead of placing the tooth in a bridge that wears down and puts pressure on surrounding teeth, the new dental crown is supported by a titanium tooth root in the jaw bone.
Once the implant bonds with the jaw bone, we place an abutment on it to create a wide foundation for the crown. Then, we secure a custom-made crown onto the implant to replace the visual and chewing function of the tooth. This blends in perfectly in shape and color with the patient's other teeth.
How Does an Implant Work?
Find out what to expect: This video shows what an implant device generally looks like and how it is placed.
Get a FREE Consultation
Call Dr. Tim Stirneman's office for a FREE appointment.
We'll give you an exam, learn your goals, and give you exciting options for a new smile!